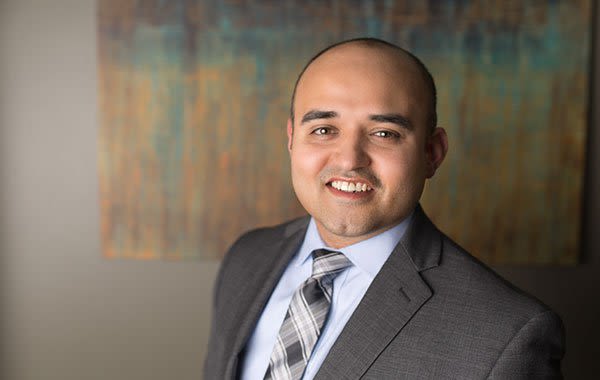 Anselmo Duran is a first-generation Mexican American who was born in Chicago and grew up in the Back of the Yards neighborhood. In 2012 he returned to his stomping grounds to establish the Law Office of Anselmo Duran, P.C., focusing on workers' compensation and personal injury law.
Anselmo earned his bachelor's degree in Political Science at North Central College in Naperville, Illinois. While at North Central, Anselmo dedicated himself to wrestling all four years.
Anselmo continued with his education and earned his Juris Doctorate from The John Marshall Law School in Chicago, Illinois. Anselmo's strong advocacy skills began to show early in his legal career. While at John Marshall, he was selected to represent the law school on two moot court teams. Anselmo competed on a national level and his teams won numerous awards for John Marshall, including national finalist and best brief in the 2007 Hispanic National Bar Association's (HNBA) Moot Court Competition. At the 2008 HNBA National Moot Court Competition, Anselmo, along with his teammate Abraham Sandoval, won Best Brief and were crowned National Champions. Anselmo's great performance in law school earned him an externship in the Northern District of Illinois with federal judge Ruben Castillo, who is now the Chief Judge for the Northern District of Illinois.
Anselmo has always shown an interest in, not only being involved but being a leader within the Latino community. While at John Marshall, he held numerous positions within the Latino Law Student Association. Anselmo was elected treasurer in 2007and President in 2008. In 2007, he was elected Central Regional Director for the National Latina/o Law Student Association. Anselmo's passion for great advocacy and his sense of community has kept him involved with John Marshall while giving back to the Latino community at the same time. In 2013, he coached one of John Marshall's moot court teams and helped guide them to a National Championship at the 2013 HNBA Moot Court Competition. Mr. Duran continues to coach the HNBA Moot Court Team.
Mr. Duran is a member of the Hispanic National Bar Association, Illinois State Bar Association, Hispanic Lawyers Association of Illinois, and Workers' Compensation Lawyers Association.